Workshop Information and Dates
Back by popular demand and including extra dates, the Blaze Farm Wreath Making and Table Centrepiece Workshops!! Also, we're excited to announce that new this year is our Mosaic Workshop. To book either ring the farm on 01260 227 229 or click on one of the links below.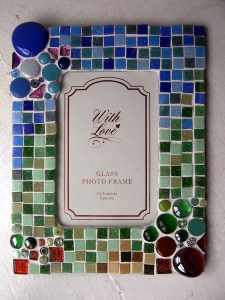 Mosaic Workshop - £25.00
Delighted to announce the dates of our mosaic workshop...!
Design and make your own stunning glass mosaic mirror or picture frame to hold a 6 x 4 inch photo. All materials provided with step by step guidance from our course leader Louise – an ideal Christmas present or beautiful gift to yourself! Open to children aged 11+
£25 per person - also includes a hot drink on arrival and an award winning, Hilly Billy Ice Cream at the end - yum yum!
Dates – all November:
Thursday 1st – 10am-midday
Friday 2nd – 10am-midday
Saturday 24th – 10am-midday
Sunday 25th – 10am-midday
---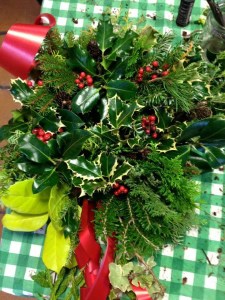 Wreath Making Workshop - £21.50
A fantastic, long lasting wreath to hang outside. The workshop price includes all your materials – wreath ring, wires, foliage, moss, ribbon, larch cones, holly – and a step by step guide from Louise, our workshop leader who has 25 years experience in the trade!
Also includes tea/coffee on arrival and a warm, luxury mince pie with 2 scoops of any flavour of our award winning Hilly Billy Ice Cream at the end - yum yum….!
NB – evening courses are all 'bring your own!' alcohol/wine..!
Remaining dates available – all December:
Friday 7th - 7-9 pm
Monday 10th - 7-9pm
Wednesday 12th - 7-9pm
---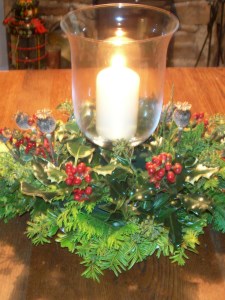 Festive Table Centrepieces Workshop - £29.50
What every house needs – a show stopping, handmade festive centrepiece..! The workshop price includes all your materials – glass vase, candle, oasis ring, wires, foliage, flowers moss, ribbon, larch cones, holly – and a step by step guide from Louise, our workshop leader who has 25 years experience in the trade!
Also includes tea/coffee on arrival and a warm, luxury mince pie with 2 scoops of our award winning Hilly Billy Ice Cream at the end - yum yum…..!
NB – evening courses are all 'bring your own!' alcohol/wine
Remaining dates available – all December:
Thursday 20th 7-9pm
Saturday 22nd 10am-midday
Saturday 22nd 2-4pm
---